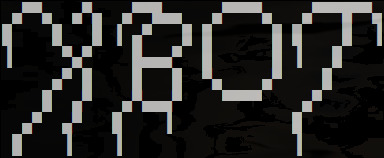 DEMO version available with test-mode fully enabled!
xBot is a fully-automatized trading robot platform which supports BitStamp and BitFinex. I've developed and tested this since November, 2013. The bot is coded with Java so it works on Linux, Mac and Windows. No GUI.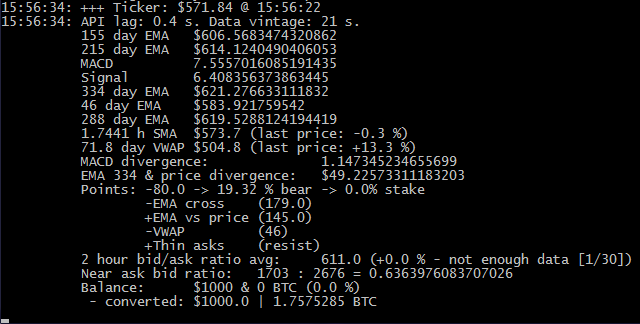 Features
Test-mode for back-testing and real-time testing
7 supported indicators: MACD, 2 EMAs cross, EMA & price cross, bid sum/ask sum ratio trend, thin asks/thin bids, SMA & price cross, VWAP & price cross
Use custom time intervals like 4 min, 17 min or 63 min (anything higher than 1 min)
Switch between configs on fly
Create CSV files of your backtest runs for analyzing them in Excel by making charts of them etc.
Works in command line/terminal so you can leave it on at dedicated linux server in a

screen

and check it with

SSH

with your android/meego/maemo phone or win/linux/mac pc
Draw chart picture files of every indicator
How it works
All trades are made based on calculated risk points which may be positive or negative. Positive value is bullish and negative is bearish. The risk points are calculated by six different indicators (depending on their configuration). Risk points are then used to calculate your stake-% which means how much of your all money should be in BTC at the moment. Then the bot will sell or buy to reach the stake-% we want. If you are a programmer you can see from this code how it calculates the points: http://pastebin.com/embed_iframe.php?i=07vXxrqq
The bot uses 100-365 days of history data for calculations. One calculation takes 5-100 milliseconds depending on your CPU speed and selected interval.
Configuring it takes a lot of time because the bot is not simple. You should back-test every config before putting it in real use.
At first run the bot will download a lot of history data. You need 150 MB of disk space for the extracted file. After the first time those files (.csv and .gz) can be deleted because the bot will store the data in it's own formats which are 15 MB only (own file for both real-time and offline usage). First start will take 5-10 min.
I recommend a dedicated Linux server for real use so you can run it 24/7. If you need help with linux stuff, contact me.
Fore more defailed information see these files (included in the download too) or post a question

Pricing:
1 month €10.00 EUR
3 months €25.00 EUR
6 months €50.00 EUR
1 year €95.00 EUR
One license should be used from one computer only. When license expires, bot will disable trading but stay on.
Payment methods: Bitcoin (BitStamp price, contact me) or PayPal (click here). I make all licenses manually so there will be 0-12 hour delay. I will send e-mail with adownload link for full version of the bot with personal license included for your selected time length.
[size=12pt]Contact information:[/size]
In case of Java problems, you have something to ask or you want to purchase the license with BTC, contact me.
e-mail: goxbot.servicedesk(at)gmail.com
IRC: keus @ Freenode or IRCnet
BitcoinTalk: poikkeus
[size=13pt]Download link[/size]
Demo version (real-trading disabled). Open ReadMe.pdf to get started. No API key needed for demo.
Need some tips with configuring? I'm here at this forum to answer all your questions

I've set the best configuration I've found as the default configuration file. Below is an old chart of the results compared to Mt.Gox bitcoin price. It is a long-term config… It does a trade at every 7 day in average.
CHART
The bot can also generate a status html page for www-monitoring if you've set up a http-server.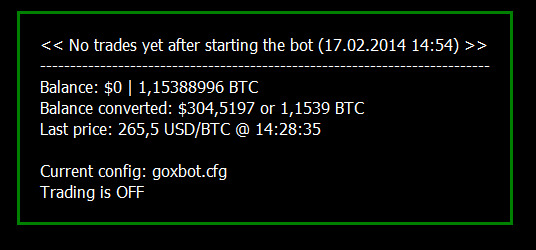 Source code?
This bot is not open-source at the moment. There is a repository at BitBucket but it's private. I can give access to a trusted bitcointalk member to check it's legit if this is needed. If you are one, PM me.
Some other configs
– coming soon
– post your own!